ABOUT MARIE-CECILE
About Marie-Cecile
At the "Seen" level, my name is Marie-Cecile Gargano and I was born in Brussels, Belgium in a family of artists and physicians. As a young child, I saw not only the energies causing people's diseases, but the diseases themselves inside people's bodies and at the age of five when I saw the cancer that I knew would take my father's life, I blocked this ability. I recently brought this memory to consciousness, and as I healed the child, I reawakened this ability now expressed through the DNA pictures in a new, more expanded and fulfilling way.
In 1972 I came to America as a young bride and 1989 saw my sudden and rapid awakening after coming to North Idaho where I reside.
In 1995, my awakening took another quantum leap when my husband passed away and I knew the only way to heal and know the Heart joining that made us as One, was to remember my Divinity through this body.
In 2000, I became aware of being a Portal of Divine Consciousness and as the Consciousness of Oneness and its messenger, I began writing and painting "SoulSelf Portraits," a translation of the frequencies of the marriage of your Divine Self with your Human self that through a mirroring effect, reactivated the remembrance of your Divinity and Oneness, and with each one I painted, I cried tears of joy as I also recognized my Self.
I call myself a "Major Door Opener." I choose NOT to use the word teacher, as there is nothing I can teach you that you do not already know. I am a Catalyst for Transformation and the Remembrance of your Divinity.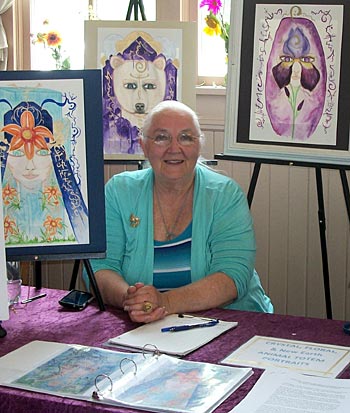 At the "Unseen" level, I AM Divine Consciousness having a Human experience and my Service is to the "Highest" and "Purest," the Divine within and the Human without.
My journey into the experience of physicality is about the FOREVER DEEPENING REMEMBRANCE OF MY DIVINITY THROUGH MY HUMANITY.
I AM Marie-Cecile, Messenger and Catalyst for the Remembrance of our Divinity, our Oneness.
I AM but a reflection of YOU.

Comments:
"Marie-Cécile has done a SoulSelf Portrait for me and even though I had high expectations, I was shocked by the result. Not only was the picture beautiful and personal, the message accompanying the picture was pin pointed so close to home it was breath-taking. Marie-Cécile did not know me personally at the time the portrait was done, but the message received by her for me felt as though she had known me all my life. The SoulSelf Portrait done has helped me enormously in my everyday life. Knowing now my life path and strengths, I feel life has gotten easier for me and I feel better prepared to face everyday issues. Marie-Cécile has done many more portraits for the different members of my family since, and we all have seen how personal, useful and important the SoulSelf Portraits have been to assist us with our life and dreams."
~ Christel Dujardin-Terry

"Marie's Soul Portraits are an amazing view of our spirituality and the energy surrounding us. Marie's artwork is a masterpiece of intuitive creativity and insight. I met Marie at The Holistic Festival in Sandpoint, Idaho, and quickly became aware of her talents. I have personally had her work commissioned for myself and I feel my SoulSelf Portrait is done with Love and Light; it is as though she looked into the window of my soul. She provides a detailed reading with each that includes the meaning of the symbols, colors as well as her intuitive information she feels with each. I highly recommend her artwork! Marie-Cécile, Thank You for the SoulSelf Portrait you did for me. Love and Light."
~ Cathleen L. Balfour
---
Copyright © 2007-2019 Marie Gargano
Unauthorized Reproduction is Prohibited